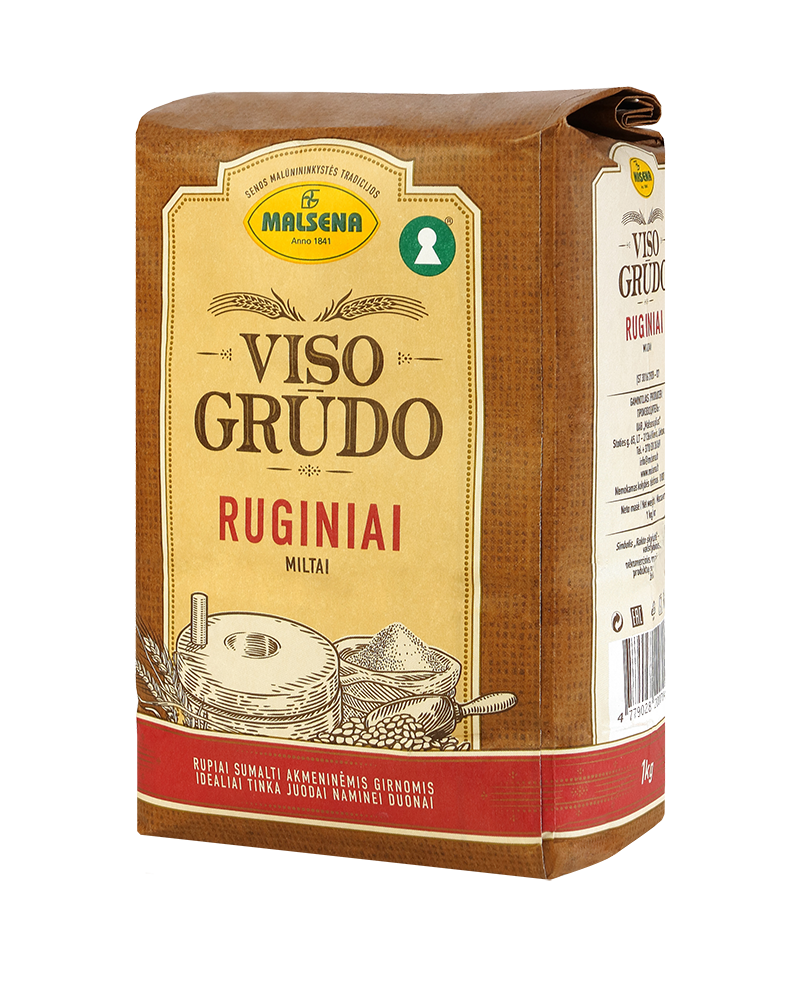 Wholegrain Rye Flour
STROKED SMOOTH IN A STONE MILL
The grain heats up less when ground in a stone mill, thus even more beneficial substances are retained.
WHOLEGRAIN GOODNESS
No valuable parts of the grain are taken away while milling, making wholegrain flour rich with minerals, vitamins and fibre.
FOR BLACK HOME-MADE BREAD
Favoured by bread makers, coarsely ground from selected rye, the wholemeal flour for bread just like the old days.
We are introducing wholegrain rye flour continuing old Lithuanian milling traditions. The flour is milled with millstones and is made according to the ancient traditions from carefully selected rye, grown in fields of Lithuanian farmers cherishing traditional agriculture. It is a kind of ancestors heritage  – from the time when flour was worshiped and valued for the given taste and aroma to home made bread.
Wholegrain coarsely milled rye flour, rich with bran (natural fibre materials), is distinguished not only by peculiar taste properties, but it preserves all vitamins and minerals, containing in rye. Traditional Lithuanian rye bread is baked exactly from such flour.
This product is labelled with the Keyhole symbol. Products marked with the Keyhole symbol contain significantly less saturated fat, sugar salt and more dietary fibre.