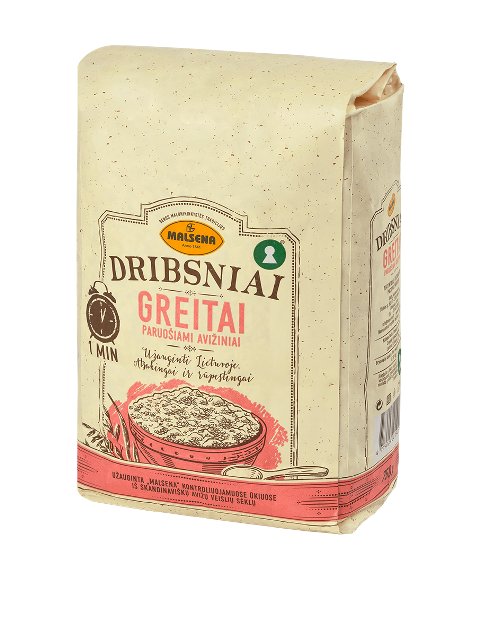 Oat Flakes Quick Cooking
QUICK COOKING & WHOLEGRAIN
Nutritious wholegrain oat flakes just in one minute.
EXCEPTIONAL QUALITY
Made from selective Scandinavian oat strains grown under Malsena's oat cultivation program.
HARVESTED IN LITHUANIA
Grown with care in Lithuanian farms.
Quick cooking oat flakes are produced from carefully grown, selected and properly prepared Lithuanian oats.
Oats are distinguished from other grain cultures by their unique fibre composition, as they have soluble and insoluble fibres, especially beneficial for the human body. Beta-glucans help to maintain normal blood cholesterol levels. It is said that the effect of beta-glucans can be felt if at least 3 g of beta-glucans produced from oat flakes are used daily. A 90 g portion of oat flakes contains this portion of beta-glucans.
Oats are also valued for:
Vitamins (B group and folic acid).
Minerals (iron, selenium, magnesium).
Easily assimilated proteins.
Oat flakes are perfect for tasty and nutritious porridges, as well as delicious deserts – cupcakes and granola – or bread.
This product is labelled with keyhole symbol. Products marked with the Keyhole symbol contain significantly less saturated fat, sugar salt and more dietary fibre.