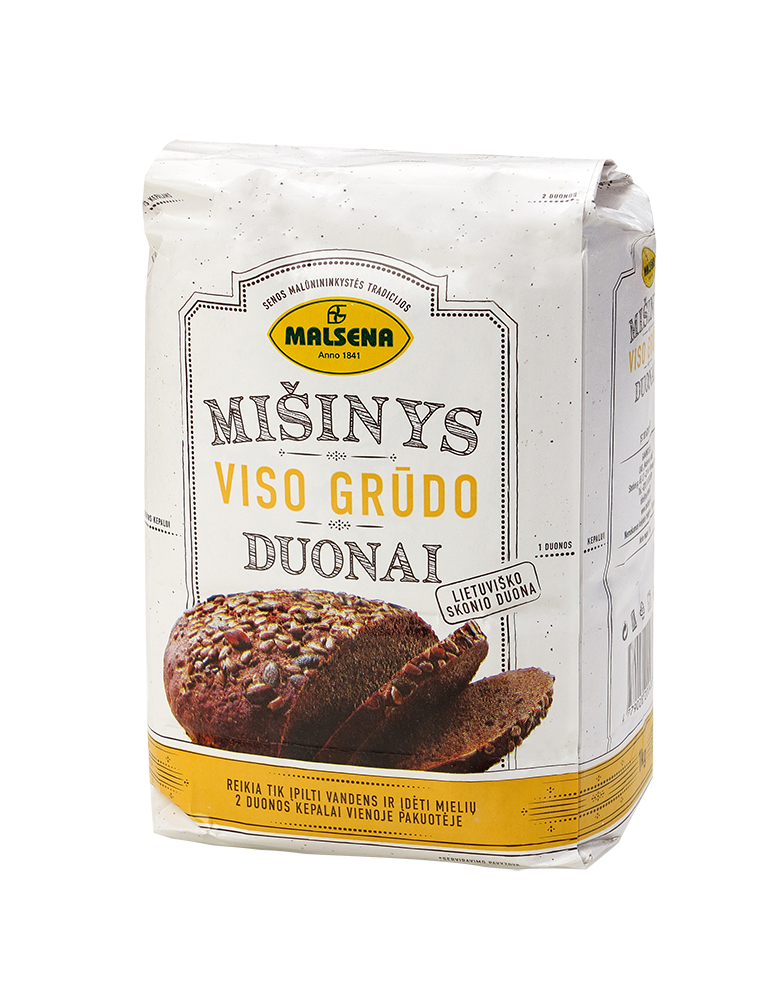 Wholemeal Bread Mix
WHOLEMEAL BREAD
No valuable parts of the grain are taken away during the milling process of wholegrain flour. Thus, bread made with wholegrain flour is rich with minerals, vitamins and fibre.
EASY TO MAKE
Only some water and dry yeast needed additionally.
Composition
| | | |
| --- | --- | --- |
| | 1 loaf  |  2 loafs |
| Bread Mix | 0,5 kg |  1,0 kg |
| Water (30-32ºC) | 0,35 l |  0,7 l |
| Yeast (dry/compressed) | 6 g/15 g |  11 g/30 g |
Preparation
Pour the bread mix and yeast into a bowl. Add water and knead by hand (for about 5 minutes) or with a spiral mixer (at the beginning use 1st speed, until there will be no dry flour left, and then 2-3 minutes at speed 2) until the dough becomes integral.
After the dough is kneaded put it on a table sprinkled with flour and forms one large or two smaller loaves by hand. Then add them to the baking paper-lined or oil greased baking forms.
Put the shaped loaves of bread into 30-35° C degrees oven for 40 minutes rising (or 1.5 to 2 hours at room temperature). After the dough is raised, remove the forms with preparations out of the oven, heat it to 200° C, and then put the forms with preparations back and bake for about 40-45 minutes, until bread will take a nice brownish colour.
Remove baked bread from the form and spray with water or just stroke the crust of bread with moistened palm. After that the crust will be softer. Cover bread with kerchief or towel and leave to cool.
---
Cooking Tips
Bread of the mix can be baked with bread machine, using program for rye-wheat bread (in most cases – Program. No 3), first add water, and only after that bread mix and yeast.
Bread can be seasoned by adding a spoon of natural honey and pouring sunflower, linseed, sesame seeds or other favorite seeds or nuts in the dough.